Happy Monday! How was (is) everyone's weekend? I had a great weekend off-call. On Saturday I hung out with my friends from high school and we had brunch and sangria on my friend's rooftop patio and baked in the sun. My summer tan (ha!) is officially underway. I saw Simon and Matt and on Sunday we had classic family dinner at my mom's house. I am feeling refreshed and ready for another few weeks. I
missed my cat
while I was away! Tiffany bravely took care of both cats by herself all weekend. She's an excellent roommate.
All things in the three legged cat department are going along tickety-boo! He's so cuddly and sweet and has some hilarious vocalizations. More importantly, exciting news! Otis and Yoda
are BFFs now
!
coming soon to an apartment in Guelph
My four day plan went slightly according to schedule and slightly not, but now they spent their time together playing, watching things through the same window, using each other's litter boxes and in general being cute and way, way less annoying than previously. Two cats
are
better than one! It will be sad when Otis goes home next week.
Taking care of Yoda has been pretty uncomplicated. Based on some comments from the women who did all my paperwork when I was adopting him, I thought that he would be destructive and get into everything, but nothing of the sort yet! Either our house is effectively cat proofed (thanks, Otis) or he's more mellow than I was anticipating. So that's excellent.
Although he does eat exactly like this...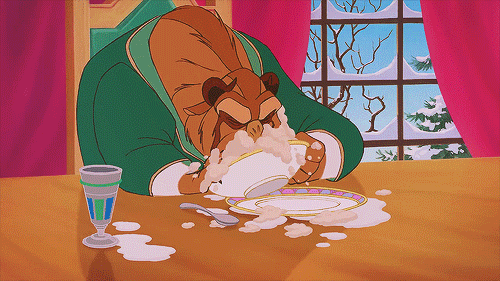 It's hilarious, disgusting and also a little concerning. My mom mentioned that because he's had two surgeries and a sporadic sense of "home" his feeding schedule has probably been very erratic. Hopefully it was calm down in a few weeks. If not there's always The Cat Whisperer!
Overall...I'm very happy with how it's all worked out. I love having this ginger dude to cuddle with at night (and sometimes in the mornings...my heart) and
to keep me company
. Also sorry not sorry for flooding everyone's instagram feeds with cat pictures. It's just not going to stop anytime soon I'm afraid. Have a great Monday!
Until next time, xo